We cannot predict when a loved one may pass, so there is never really time to prepare. Things can happen fast, and it may be difficult to go through the grieving process while also planning a memorial service. Many people are unaware of what to do when friend or family member dies, so our team at Caza de Paz Funeraria wants to take that worry off your back. Discover the steps you should take for funeral service arrangements.
What to Do When Someone Dies
Since most deaths occur in health care institutions such as hospitals and nursing homes, the attending staff may provide you with some preliminary information. If the end happens at home, please notify the physician or attending registered nurse (if the death was unexpected or if there are any peculiar circumstances, phone the police immediately).
If the deceased was under hospice care at home, your caregiver should provide some necessary information for you to follow. No matter what circumstance, our brief checklist will help you along the way.
1. Initial contact
Understanding what to do after the death of a loved one is crucial. When your loved one has passed, contact the doctor, a nurse, coroner, or police if necessary. Then, contact a funeral home for services options. At whatever hour your loved one has given, our funeral director is available to provide assistance 24 hours a day.
When you call the funeral home, we'll ask you the following questions:
What is the full name of your loved one who died?

Where did your loved one die? And are they still at that location?

Who is the next of kin and what is their contact information?

What is your name and your contact information (if you are not the next of kin)?

Does your loved one have a pre-arranged funeral with our firm?
2. Create funeral and/or cremation arrangements
Set an appointment time with the funeral home for you to complete the details of the arrangements. For the service, we will ask you to have information and items that we need to complete the arrangements such as:
Date and place of birth (city and state)

Parent's names, including mother's maiden name

Marital status and the spouse's full name

Education information

Social security number

Veterans information including discharge papers/claim number

Pre-arrangement documentation (if applicable)

Cemetery lot documentation (if applicable)

A recent photograph

Clothing for your loved one
You will also need to decide on the location of the services—this can be at the facilities of the funeral homes, your church, or other facilities appropriate for hosting services. At Casa de Paz Funeraria, we provide international shipping if you'd prefer to hold your loved one's service and put them to rest in your home country.
Contact the Clergy/ Celebrant/ Officiant who will be presiding at the ceremony. You may also choose a family member to lead the procession of the service. Set the time for the service with the funeral home.
Choose the disposition for the deceased—either burial, cremation, or entombment. Compose obituary with our assistance if you wish (there is no additional fee for this service) with the following information needed:
A photo

Age

Place of birth

List of surviving family members

List of predeceased family members (if desired)

Occupation and education

Memberships

Military service

Hobbies and activities

Details of the service

Donations to a particular charity (if desired)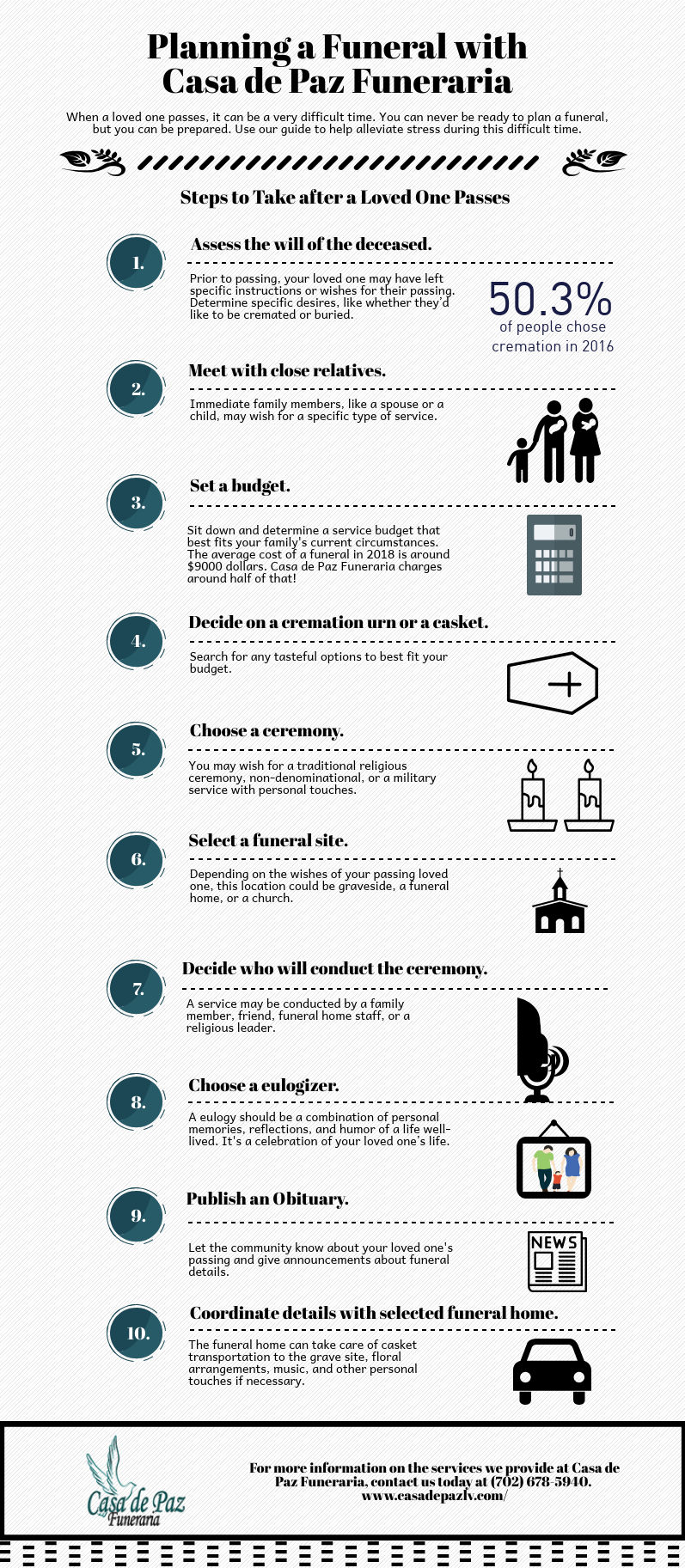 Again, the funeral home will help you with the obituary and post it on the website, plus submit it to any appropriate newspapers if desired. Also, determine the number of death certificate copies that you will need, and we will order them for you. Identify family and friends to serve as pallbearers—people in poor health can be named honorary pallbearers.
3. After the arrangements and before the service
Prepare a list of family, friends and business colleagues to notify them of the service. Notify all organizations such as church, groups, and associations. Start a notebook or list to keep a record of visitors, flowers, and other gifts arriving at the house and funeral home.
People will ask you if you need any help or require anything for the service, so prepare (and don't feel bad) to accept this generosity. Make a list of items and tasks such as meals (let them know if there are any special food allergies), household duties (including cleaning or mowing the lawn) and transportation (for out of town family or friends or even picking up kids from school).
Again, don't feel bad accepting this help, your friends want to help but usually, don't know how to help or what to provide you with for the memorial.
4. After the service
Set an appointment with the After Care Specialist to help you get organized to settle the estate and will assist you in filling out forms and contacting the appropriate agencies, including:
Notifying the bank of the death

Informing the life insurance companies of the passing

Contacting the lawyer if necessary

Cancel credit cards and driver's license, and submit phone number to Do Not Call lists
After the memorial service and burial, create a list of people and organization to send thank you cards to—consider sending a copy of the memorial folder to those who were not able to attend the service.
Let Casa de Paz Plan the Memorial Service Your Loved One Deserves
We want to provide your family with the right facility to remember the incredible life of your loved one. Casa de Paz helps you with the planning and service for the passing of your family member. Contact us today if you have any questions.